Campaign to save ChildLine centre in Exeter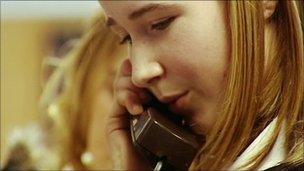 Volunteers and staff have started a campaign to save the ChildLine centre in Exeter which has been threatened with closure.
Campaigners said closing it would be a massive waste of money and experience.
ChildLine said it had to provide the most efficient and effective service and it believed that would be through fewer, larger bases.
It comes on the day the NSPCC revealed 729 child sex offences were reported to Devon and Cornwall Police in 2009-10.
Leader of the campaign to save the centre, James Barisic, said keeping the Exeter base would be a cheaper alternative.
They said £1.6m that was raised locally should have been used to preserve the Exeter centre, which has 98 volunteers and 10 staff.
Director of ChildLine Peter Liver said: "We need to make sure we're providing the most effective and efficient service.
"We believe the proposals are the right ones," he added.
Mr Liver said the formal consultation started on Monday.
Related Internet Links
The BBC is not responsible for the content of external sites.