Facebook-grooming man Jake Ormerod admits child abuse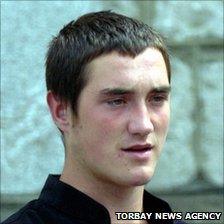 A man has admitted abusing girls he met through Facebook, after his arrest during a large-scale inquiry into child sexual exploitation in south Devon.
Jake Ormerod, 19, of Torquay, admitted 13 charges at Exeter Crown Court relating to eight girls as young as 13.
Police said he was part of a paedophile gang who used the social networking site to target victims.
Ring members groomed and targeted homeless youngsters and picked up children outside schools, police said.
Ormerod, of Babbacombe Road, was arrested in February by officers investigating the exploitation of children from the Torbay and Teignbridge areas.
Thousands of parents at south Devon schools were sent letters in February informing them that a major child abuse investigation, Operation Mansfield, was being carried out by Devon and Cornwall Police.
Ormerod admitted one charge of sexual assault on a child, plus 12 charges of sexual activity with a child - seven when he was aged under 18 and five when he was 18.
The charges covered a period of three years.
He was remanded in custody and is due to be sentenced in July following psychological reports.
After Ormerod's admissions, Det Insp Simon Snell, who is leading Operation Mansfield, said he was "pleased that the vulnerable victims have been spared the ordeal of having to attend court and give evidence".
He added that officers expected to make more arrests in connection with the paedophile ring.
He said: "We have interviewed more than 40 children and I do not think we have finished yet.
"There may be more arrests to be made as the investigation focuses.
"Facebook is one of the features. Ormerod had an account and we are actively investigating the links that site provides us."
He said the gang, of which Ormerod was part, would ply vulnerable girls with drink and drugs before abusing them at their homes, which were well known to homeless children.
Det Insp Snell said: "They used Facebook and met them via the site. Slowly and surely they began to pretend that they were the boyfriends of the victims.
"But there is no way these girls could pretend to be the girlfriends of sex offenders."
Victims who were identified were supported by multi-agency professionals - including police, Torbay Council's children's services and the NHS - police said at the time the letters were sent.
Related Internet Links
The BBC is not responsible for the content of external sites.