'Banksy' art at Grosvenor Hotel in Torquay vandalised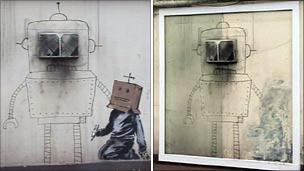 A Devon hotel has appealed to the graffiti artist Banksy to revisit it after a mural believed to be his work was vandalised.
The painting of a child drawing a robot is on an outside wall at the Grosvenor Hotel in Torquay.
Vandals smashed a protective glass screen to attack it with paint stripper, removing the child.
The hotel owners said the 8ft (2.4m) high artwork had been a popular tourist attraction. Police are investigating.
Mark Jenkin, who bought the hotel in Belgrave Road last year, said: "They've just obliterated the little boy that was kneeling there, with paint stripper.
"This isn't someone just passing by on a Saturday night after a few drinks.
"This was someone that deliberately wanted to destroy it, which is a shame.
"Perhaps Banksy could come and reinstate it for us."
The image, which was created around an extractor fan fixed to the outside of the hotel, first appeared in October 2010.
Mr Jenkin had the £1,000 toughened glass screen made to protect the work.
He said he had not reported the incident to police as he did not know who was responsible for the vandalism, or if vandalising graffiti was a crime.
However, officers said they were looking into the incident as a case of criminal damage.
Insp Jez Capey, of Devon and Cornwall Police, said: "The actual paint work of the hotel has been damaged, as well as the Perspex covering, so it is a clear case of criminal damage."
Police said they were looking for information about the incident.
There has been no formal identification of the artwork but there is an image of it on the secretive artist's own website.
Mr Jenkin said: "A lot of people used to stop and have their photos taken with it.
He said the hotel had been intending to name its new nightclub "Banksy's" but would now be looking for a new name.
It is not known how much the mural was worth but some original Banksy works have sold for tens of thousands of pounds.
Related Internet Links
The BBC is not responsible for the content of external sites.