Plymouth homeless shelter residents refurbishing boat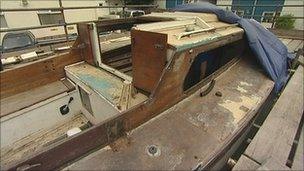 People living in a homeless shelter in Plymouth are refurbishing an old sailing boat which was donated to the Salvation Army.
The 29ft (8.8m) long wooden vessel is being worked on by some of the residents of the charity's Lifehouse centre in Devonport.
It is expected it will take about 18 months to make it seaworthy again.
When completed, it is hoped that people from the centre will get the chance to learn to sail in it, the charity said.
Mike Aubury of the Salvation Army said: "An ex-resident who was living here had been living on the boat.
"He decided that he wanted to donate it to the centre and we thought it would be a fine project to take on for the lads to keep them active during the day."
Related Internet Links
The BBC is not responsible for the content of external sites.