'James Bond' boat drugs gang jailed after Exeter trial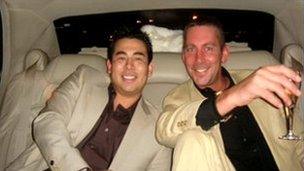 Seven members of a gang which funded a lavish lifestyle by supplying cocaine throughout the UK have been sentenced.
Exeter Crown Court heard the men spent their money on cars, homes abroad and a James Bond-inspired boat called "Shaken, Not Stirred".
Six of the men were convicted of conspiracy to supply cocaine in April. The other admitted the charge earlier.
The investigation into the gang started in 2009 when police found cocaine worth about £250,000 in a car in Devon.
'Professionally organised'
After an 11-week trial, and amid tight security with armed officers in the courtroom, Timothy Eastgate, 31, Paul Flisher, 38, Shaun Battle, 41, Stephen Procter, 38, Christopher Leader, 54, James Wright, 28, and Dean Birch, 26, were jailed.
Eastgate was jailed for 16 years for conspiracy to supply drugs and seven years for two firearms offences, which he had previously admitted, totalling of 23 years.
Flisher was jailed for 14 years for drugs offences and seven years for firearms charges, which he had also admitted, a total of 21 years.
Battle was jailed for 12 years for conspiracy, while Proctor, Leader and Wright were jailed for nine years and Birch for eight.
Eastgate, from Norfolk, led the gang along with his deputy Flisher, from Essex.
Battle, from Bere Alston, near Plymouth, led the operation in Devon.
Proctor, also from Plymouth, Wright, from Chingford, London; and Leader, from Romford, were couriers, the court heard. They delivered drugs and picked up cash, prosecutors said.
Six of the gang had denied the drugs charges, but Birch, from Essex, admitted conspiracy at the earlier hearing.
The gang transported Class A drugs, with an estimated street value of millions of pounds, from bases in Essex to users in Plymouth, Devon, the court heard.
Their international network enabled them to buy Lamborghini and Ferrari sports cars, speedboats and villas on the Costa del Sol and in the English countryside.
It was exposed by police after Leader's car was pulled over on the M5 in Devon for having no insurance.
After stopping Leader, police started working back up the chain in Operation Stagshaw.
During the investigation, in a garage at Eastgate's estate, officers found a strong-arm press - used to compress cocaine into blocks - suitcases and an airport-style X-ray machine to see if drugs packages were disguised.
Passing sentence, Judge Phillip Wassall said: "By any means, this was a conspiracy that was professionally organised."
Following the sentencing, senior investigating officer Jim Hinchliffe, of Devon and Cornwall Police, said it had been "a very complex case and a reactive investigation".
He said: "The long sentences imposed reflect the enormity of this drug supply enterprise".
He added that police would now focus on seizing the cash and assets of the gang.
Related Internet Links
The BBC is not responsible for the content of external sites.