Tom Daley mourns father Rob at funeral in Plymouth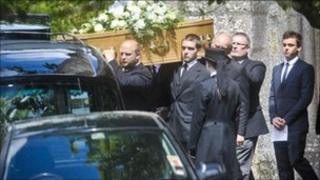 World champion diver Tom Daley has joined his family and other mourners at the funeral of his father Rob.
Mr Daley, who was 40, died on 27 May after a long battle with brain cancer.
Mr Daley gave up his electrician job to accompany Tom to diving events around the world and had hoped to see him compete at the London 2012 Olympics.
Tom, 17, his mother Debbie and brothers William, 14, and Ben, 12, followed the coffin as it was carried into St Mary's Church in Plympton, Plymouth.
After the service Tom left a message on his Twitter feed which read: "You are my biggest source of motivation dad! I will make you proud!"
Tom gave a eulogy during the service in which the 200 mourners sang Jerusalem and listened to one of his father's favourite songs, Unchained Melody.
'Terrible loss'
They also sang the hymn Give Me Joy In My Heart, which Mr Daley used as inspiration.
A phrase from the hymn, "Give me oil in my lamp, keep me burning," was inscribed on one of his T-shirts.
The hymn was also sung at his wedding to Debbie at the same church.
The Reverend Roger Buck paid tribute to Mr Daley's devotion as a father and his courage in his fight against cancer.
After the service, Plymouth diving coach Sally Freeman said there had been many tributes to Mr Daley, including from his son "who did a really good job".
She said: "It's such a terrible loss, for Tom, his family and his brothers.
"Rob was a larger than life character who was always present at diving events and waving the Union Jack.
"There will be a big gaping hole in the sport."
Tom Daley said in a statement: "My dad was an incredibly brave man, completely dedicated to his family, with a love for all.
"If I could be half the dad he was to my children then that will be an achievement in itself."
He also said on his website that he was particularly keen to support the nurses who had cared for his father during his final days.
Mr Daley was diagnosed with a brain tumour in 2006 and had an operation to remove 80% of it.
He watched his then 15-year-old son become Britain's first individual diving world champion when he won the 10m platform event in Rome in 2009.
He was in remission until a routine health check in 2010 discovered a tumour had returned.