New Sainsbury's depot near Exeter could create 450 jobs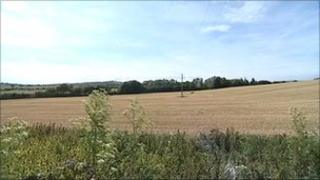 Hundreds of jobs could be created after a supermarket chain announced plans to build a major distribution centre in Devon.
The Sainsbury's depot will be built at the new Exeter Gateway freight facility, subject to planning permission.
The company said the depot would employ about 450 staff, the majority of whom would be recruited locally.
It said it hoped to open the facility before the end of 2012.
Planning approval for the depot is being considered by East Devon District Council's Development Management Committee later.
The depot would initially serve 35 stores in the South West, including Devon and Cornwall.
'Big signal'
At the moment the nearest depot is in Bristol, which Sainsbury's said was almost at full capacity.
Tim Jones, chairman of the Devon and Cornwall Business Council, said: "This is fantastic news. More than 400 jobs at this time in the market economy is brilliant news for Exeter.
"It's a big signal about investment in Exeter.
"There will be indirect jobs, lots of opportunities for local companies."
Richard Bull, head of Economy and Tourism at Exeter City council, said other companies such as Waitrose and John Lewis were also planning developments in Exeter.
He said: "They are a signal of confidence in the city's capability of growth and we hope we can continue with that."
The Exeter Gateway freight facility is part of a major proposed development east of Exeter to include the new town of Cranbrook and a science park.
Planning permission to develop the freight site near Clyst Honiton was originally granted in 2007.
The Sainsbury's development is dependent on an application to vary the terms of the original planning consent being granted.