Affordable homes plan for Newton Ferrers village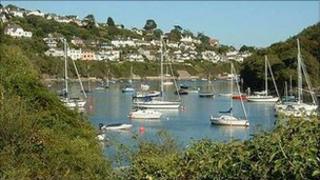 Newton Ferrers is the place dreams of seaside living are made of.
Set in an idyllic spot on the Yealm estuary in South Devon it is popular with yachting enthusiasts and holidaymakers.
It is described as a "villagey village" with a thriving University of the Third Age, a school, shop, post office and pub.
But, according to Suzie Cooper, the chair of the parish council, it is also a property "hot spot" with not enough houses for young families and too many grand retirement properties and second homes.
"It's becoming like nearby Salcombe [where properties regularly cost over £1m]" she said.
A three-bedroom house in Newton Ferrers currently costs about £950,000.
"We have, on average, seven applications for new houses each month, over 74 in the last year," Mrs Cooper added.
"But most of them are investment properties for people planning to retire to the village.
"We've got a very lopsided community."
Mrs Cooper has spent years campaigning for affordable housing in Newton Ferrers.
The village is in the South Hams, which has the second highest number of second homes in England and the highest house prices in Devon.
Mrs Cooper said: "It's essential that we have younger people in the village.
"If you don't have young people you don't have children and if you don't have children you don't have a school, etc, - you just have a village full of pensioners.
In an effort to make the community less "lopsided" South Hams District Council is trialling a new affordable housing scheme in Newton Ferrers.
The Village Housing Initiative (VHI) aims to build small housing developments on the edge of villages on land which the landowner might have no use for.
In exchange for the land, the landowner is given one of the finished houses, a building plot and materials or a cash sum.
The Newton Ferrers development will be considered for planning permission later this month.
'Out of the box'
If it goes ahead it will include 14 affordable homes for local people, eight to be rented and six to be sold as shared ownership properties.
It will also include one property to be sold at market value, to offset the cost for the developer, Torre Homes, and the house for the landowner.
Councillor Mike Saltern, who oversees housing for the council, said: "Because of the recession we realised that we needed to be thinking outside the box and that's when the idea emerged.
"The aim of it is to help sustain villages, keeping villages alive is a key issue for us."
Mr Saltern said a problem in the past had been providing landowners with enough of an incentive to part with their land.
He said: "In this scheme the landowner is going to get a house built.
"He has the choice of whether he keeps that house or sells it on."
Beauty therapist Jane McCleod and her teenage son, who grew up in the village, are hoping to move into one of the new houses if they are built.
She said she had not been in good health and they currently live in an "old rented two-bedroom bungalow". She said she would love the "security" of owning somewhere.
Ms McCleod said: "There is no way I could afford to buy round here, houses cost mega money.
"I dread the thought of having to move anywhere else."
Mrs Cooper said there were some people in the village opposed to the housing scheme but most people recognised the need for it.
"There isn't a reason why they shouldn't be built.
"We need everybody to have a proper community, we need common folk like me."