Exeter Gateway freight terminal plans a step closer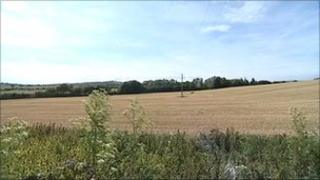 Plans to build a major freight terminal near Exeter have moved a step closer.
East Devon District Council has given tacit approval for the Exeter Gateway development at Clyst Honiton pending a report from Natural England.
Sainsbury's is intending to build a distribution centre at the new terminal, with the possible creation of 450 jobs.
Other development in the area includes the planned new town of Cranbrook, a science park and transport links.
Councillor Andrew Moulding, deputy leader of East Devon District Council, said: "This is excellent news marking another positive boost to the economy of East Devon and Exeter.
'Rail head'
"During our discussions we explored the concerns of local residents regarding noise and traffic levels.
"The application does include a condition to submit a Construction and Environmental Management Plan (CEMP) in order to address these concerns.
"This is an important application to move forward given the scale of the potential investment."
The council has said that unless the Natural England report throws up major problems the development of the rail freight facility and distribution centre will go ahead.
There are plans to eventually build a "rail head" at the terminal so that goods can be unloaded from lorries onto trains and vice versa.
Construction work is expected to begin on Cranbrook and the new Clyst Honiton bypass in the next two weeks.