Devon web star rhino Zuri moves home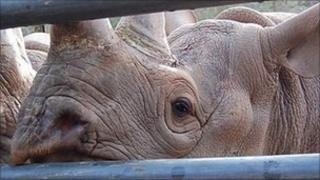 A rare black rhino which was born at a Devon zoo and became an internet star has moved to a new home.
Zuri became the first rhino calf born at Paignton Zoo, when mother Sita gave birth in March 2007.
She became a hit on the BBC Devon website when webcams showed her mother's pregnancy and birth, and attracted interest around the world.
Now just over four-years-old, and weighting about a tonne, Zuri is at Chester Zoo.
'Cheeky and confident'
Curator of mammals Neil Bemment said: "Zuri is still a bit young to breed with our male, Manyara, so she is going to Chester as they have a female of a similar age.
"We don't know at this stage where or when Zuri will breed in the future."
Zoo spokesman Phil Knowling said the international coverage was "amazing" and her arrival created a "fair amount of drama".
He said: "I think coverage helped to raise awareness for rhino conservation and increased people's understanding of how zoos work to breed rare species."
In the weeks before the birth, zoo staff and volunteers mounted night-time vigils to operate cameras for the internet and BBC South West's Inside Out programme, so people around the world could see what was happening.
The name Zuri - a Swahili word meaning beautiful - was chosen by people voting on the zoo's web site.
By six months, the zoo said her character was "cheeky, inquisitive, friendly and confident."
Keeper Lucy Manning travelled the 200 miles (320km) to Chester to help settle Zuri into her new home.