Torbay's daily Herald Express to go weekly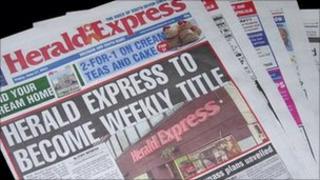 A daily Devon newspaper is to change to a weekly title, bosses have announced.
The Herald Express, which is circulated in Torbay and south Devon, said the move was the best way to secure its future in a changing market.
The last daily edition is due to be published on Friday 15 July, with the first weekly going out on Thursday 21 July.
Managers at the Northcliffe Media-owned title said there was a chance of editorial staff being made redundant.
The paper's editor, Andy Phelan, said: "The only way to safeguard a strong independent newspaper and news media presence in this part of the world is to look at the publishing cycle.
"Whichever way we cut that and look at the options, we come back to the same conclusion: weekly publication is actually right."
Staff will be working on producing 100-plus page weekly editions.
Bosses said news updates would be published through the week on its website, as well as through social media internet sites.
Managers said there would be a number of jobs affected in the editorial department.
They said that they would work to limit the number of compulsory redundancies.