Barnstaple murders trial: Langmead says he stabbed wife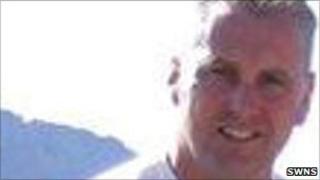 An estranged husband accused of murdering his wife and her best friend has told a court he stabbed his wife after she stabbed him.
Builder Neil Langmead, 41, denies murdering Debbie Langmead and Donna St John, both 35, in Fortmead Close, Barnstaple, in August 2010.
The women were found stabbed to death in the fire-damaged house, Exeter Crown Court has heard.
Mr Langmead, of Barnstaple, said the attack happened after a row.
He said he had been invited back to the house in Fortmead Close, where Mrs Langmead lived, after a night out in Barnstaple.
During the evening he had sex with his wife which was followed by an argument and a fight between the two women.
Mr Langmead told the jury that it suddenly escalated and Mrs Langmead grabbed a kitchen knife and started attacking her friend.
Mr Langmead said he intervened and slapped his wife three or four times to "try to stop her" as he tried to protect Miss St John.
He said Mrs Langmead then turned on him and stabbed him up to seven times before he too grabbed a knife and stabbed her back.
He told the jury at Exeter Crown Court:" I can't remember how many times I stabbed her. It was either her or me. I did not want to kill her."
He said that before the couple, who both had two children from previous relationships, married in April 2009 and separated on a number of occasions.
The court heard that police handed him a non-harassment order on 14 August 2009 after he sent his wife hundreds of texts from his mobile phone.
He said: "I still loved her and I still wanted her back but it appeared she might not come back."
The trial continues.