Devon businessman Mark Lang helped cocaine gang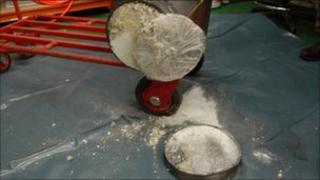 A Devon businessman has been convicted for his part in conspiring to bring more than £2m of cocaine into the UK.
Mark Lang, 37, of Pendennis Road, Torquay, was arrested as he tried to remove the drug at his firm, Exeter Crown Court heard.
Peter Ferguson, 56, of no fixed abode, was also found guilty and Mexican national Ricardo Gomez admitted the same charge before the trial began.
The three men will be sentenced on Tuesday.
The court heard that the drug gang used a specially adapted hydraulic press to conceal 18.4kg of cocaine in air freight from Bolivia.
The concealment was discovered by German customs officers at Frankfurt Airport in December 2010.
The consignment was forwarded to the UK where the cocaine was removed by officers from the Serious Organised Crime Agency (Soca).
The consignment was then followed to Taylor Made Gates on the Coventry Farm Estate in Torquay where Lang was joined by Ferguson and Gomez and the men were arrested.
Soca said that if the 80% pure cocaine had reached its destination it could have been cut into as many as 80,000 deals, generating more than £2.25m.
Richard Watson, regional head of investigations, said after the case: "Had they succeeded, they would have generated huge profits for themselves, while fuelling more crime and drug abuse on the streets on England."