Devon builder Neil Langmead murdered wife and friend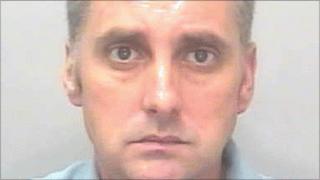 A Devon builder has been jailed for life, with a minimum term of 30 years, after being found guilty of murdering his estranged wife and her best friend.
Neil Langmead, 41, killed Debbie Langmead and Donna St John, both 35, in Fortmead Close, Barnstaple, in 2010.
The victims, both mothers of two, were found stabbed to death in the burning house, Exeter Crown Court heard.
The women, who had been sexually assaulted, were found almost side-by-side in the kitchen of the house.
The court heard the three had ended up at the house where Mrs Langmead lived after a night out in Barnstaple.
Mrs Langmead had been stripped from the waist down and sexually mutilated by her husband, either as she lay unconscious or after she was dead.
'Evil and sadistic'
Judge Mr Justice Field told Langmead: "Both women were in their 30s, both had two children, both were entirely innocent, neither had done anything at all that could begin to justify what you did to them."
The judge said the killer's account that he had killed Mrs Langmead in self defence was a "tissue of lies".
The 13-day trial heard Langmead had a long history of domineering behaviour towards his wife.
He had been unable to accept that she was starting divorce proceedings, the court was told.
A week before the killings he had been issued with a warning by police for harassing his wife.
She had also had extra bolts put on the doors of the house to make her feel safer.
Langmead claimed in court that he had consensual sex with his wife, leading to an argument between the two women.
He said the argument escalated into violence and he killed Mrs Langmead in self-defence after intervening, but the jury rejected his version of events.
Mrs Langmead's mother Caroline Hooper said after the case: "There are no words powerful enough to describe the pain and anguish we feel at the cruel, evil way Debbie was taken from us.
"She was a beautiful young woman, kind, loving and loved life.
"The sadness we feel that Debbie is no longer with us is, at times, almost too hard to bear."
Det Insp Mike West who led the investigation, into the double murder, said Langmead's crimes were "evil and sadistic".
"Having killed these two friends he then committed a further act of sexual mutilation in a premises which he had made sure was secure and from which there was no possible escape," he said.
"He has destroyed so many lives. The result of the trial will hopefully provide some sort of closure for the families."