RBS charity care home in Torquay to close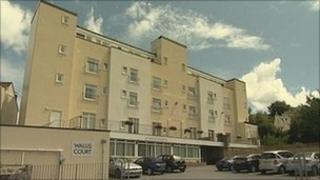 A care home in Devon with 16 residents is to close because it is no longer financially viable.
Wallis Court in Torquay is run by the Royal Bank of Scotland Care Homes, a charity set up to provide homes for former RBS staff.
The announcement comes after a three-month consultation into the future of the home.
Selwyn Deardon, whose mother is a resident, said: "[It's] unacceptable in my opinion." RBS has not commented.
The care home was found to be unsustainable because it only had 16 residents, half of its potential capacity.
'Often tearful'
Mr Deardon said: "My mother is very, very upset. She's made friends there, she's 89 years old.
"She's worried, she's now on tranquilisers which she's never been on in her life before because she can't sleep and she's quite often tearful.
"You don't know what to expect when you go somewhere else, and I think it's going to be very, very hard for her."
All 16 residents, the oldest of whom is 105, will have to find new living arrangements by 14 October when the home will close.
The closure will also result in 48 staff losing their jobs.
Peter Hosking, from South Devon RBS Group Pensioners Association, said: "It's the end of the world for many of them sadly.
"They're in their ages where they're poorly, they're not well, they're in the last few years of their life, if not the last few months.
"And it is really a very sad situation."
Residents at two other homes owned by the charity, in Canterbury and Harrogate, have been served with eviction notices.
The foundation told residents at its Canterbury home in June that it was to close too.