Devon and Cornwall Police pay review 'poorly managed'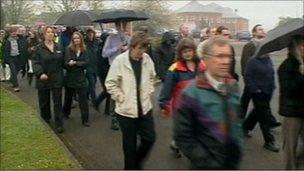 A Devon and Cornwall Police staff pay review was "poorly managed" with "systemic failures" at the most senior levels in the force, an inquiry found.
Hundreds of civilian staff were set to have their salaries cut as part of a jobs' evaluation in 2005.
The Independent Police Complaints Commission (IPCC) inquiry started after misconduct allegations were made about some officers and staff involved.
Devon and Cornwall Police said it "fully accepted" the mistakes made.
Hundreds of civilian staff at the force walked out in 2005 after being told that they faced pay cuts of up to £10,000 as part of the jobs evaluation.
The process had been instigated to ensure fair pay across the workforce but the outcry was so great that eventually Maria Wallis, the Chief Constable at the time, was forced to step down.
The Commissioner's Report, said: "This major project was poorly managed by those tasked to carry it out and with systemic failures going right to the most senior levels within the police force."
The report said things went wrong because of errors, lack of transparency, poor performance and management.
But it said: "The scheme was not, as some alleged, a malign conspiracy to save money by cutting pay for some and rewarding friends with higher pay."
And the IPCC said there was no evidence of criminality having been committed by anyone.
Lyn Burgogyne, a former civilian member of the police staff, said: "I'm very glad that the report states what it does, that staff were never contacted, there was no transparency.
"We felt very demoralised after the jobs' evaluation... it took a good couple of years to bring the staff back up."
Chief Constable Stephen Otter said: "I fully accept that mistakes were made in the last jobs' evaluation project by the constabulary in 2005 and our job now is to learn from these and ensure that future projects do not repeat the same mistakes.
"I believe that the publication of this report by the IPCC brings to an end a difficult and turbulent period in the constabulary' s history."
He said he and the police authority had received the full investigation report in 2008 and "appropriate disciplinary action" had been taken against a "small number of individuals" as a result.
The IPCC investigation, known as Operation Tay, was carried out by Gloucestershire Constabulary.
The organisation said the Commissioner's Report, a summary of the main report, was being published now because disciplinary hearings had been concluded.
It said the main report could not be published for legal reasons.
Related Internet Links
The BBC is not responsible for the content of external sites.