Devon councils approve £33m bypass contributions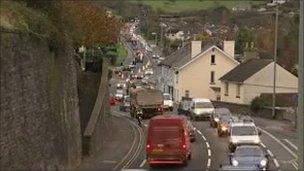 Two Devon councils have approved plans to spend a total of £33m to help fund a £108m bypass.
Devon County Council and Torbay Council are both to provide nearly £17m each for the South Devon Link Road between Newton Abbot and Torquay.
Conservative county council leader John Hart said it was "the last chance for the scheme", which was first proposed more than 50 years ago.
A funding bid for £76.3m is to be made to the government.
The councils had originally approved giving just over £10m between them to help fund the scheme.
Both of the Conservative-controlled councils approved their new plans on Thursday.
The bypass had previously been costed at £130m, with a proposal to bid for £108m of government funding.
Because of government savings targets, the councils reduced the cost to £108m by changing the plans to include more streamlined junctions and slip roads, plus other changes.
They also decided to go for a lower government bid, and increase their own contributions.
Those in favour of the bypass claim it is vital to the economy of south Devon and it will also reduce congestion, improve air quality and improve road safety.
But some residents claim it would damage the village of Kingskerswell by stopping traffic travelling through it and disrupt the ecology of the surrounding countryside.
Opponents, including the Kingskerswell Alliance, have said that it is not a good use of public money in a time of austerity and that the money should be spent on front-line services instead.
The government funding bid is being developed for submission in September.
A decision was expected by December, the councils said.
Related Internet Links
The BBC is not responsible for the content of external sites.