Brixham Coastguard to close by 2014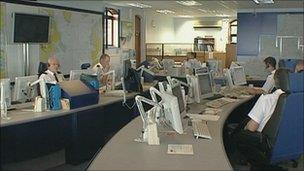 Brixham Coastguard station will close, the Department for Transport has announced.
The station, which currently provides a 24-hour service, will close by 2014.
Rick Smith, from Brixham Trawler Agents, said: "I think it's an absolute disaster - I don't think they've thought about this hard enough."
Falmouth Coastguard station, which was threatened with only providing a daytime service, will continue to operate around the clock.
The Department for Transport said the decision would enable coastguard stations to be "better co-ordinated and more resilient to the challenges of the coming decades".
Brixham Port is one of the biggest in England, with trawlers and pleasure boats relying on the information provided by the coastguard.
Mr Smith said: "I think the impact will be mainly around the shore. Deep sea you can do it from a remote system but around the shore, local knowledge is absolutely paramount.
"In this area we have over three million visitors at any one time over the whole of the South West, and they need looking after. I think lives will be lost."
The closure of the station will result in the loss of 25 jobs.
Sheryll Murray, Conservative MP for South East Cornwall, said she thought the decision was an "absolute disgrace".
Her husband, Neil, 57, a trawlerman was found dead after not returning from a solo fishing expedition in March.
Mrs Murray said: "I wrote to him [Philip Hammond] and told him about the lacking in the technology that his proposals are relying on.
"When the coastguards couldn't locate my husband's boat, a commercial website identified it's location within minutes, but he still proceeded.
"I think it's disgraceful."
Transport Secretary Philip Hammond said: "We have been clear that modernisation is required to deliver a resilient coastguard service, fit for the 21st Century.
"Our updated proposals will ensure the safety of seafarers and coastal communities, delivering the modernised and more cost-effective service we need for the 21st Century."
The government had planned to reduce the number of centres from 18 to eight, with only three remaining open 24 hours a day.
But Mr Hammond told MPs 10 centres that were 24-hour operational would remain, as would a smaller station in London.
He also announced the Southampton and Portsmouth coastline would be the base for the Maritime Operations Centre for the UK.
Martin Bitmead from the Public and Commercial Services Union in Falmouth said: "We're obviously very pleased that we're to retain a station, but we don't have any details as to what our role will be.
"The workload that our Brixham colleagues have during June, July and August outstrips our search and rescue, and on top of what we presently do that could put the staffing levels under strain."
Related Internet Links
The BBC is not responsible for the content of external sites.