Scott colleague descendent follows Antarctic footsteps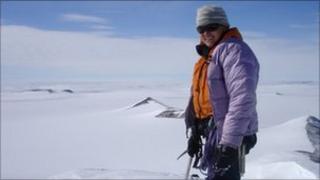 A descendent of a member of Scott's polar team has followed his footsteps.
Rebecca Rixon, a relative of Edgar Evans and an Exeter University student, has been studying the Antarctic peninsula ice sheet.
As part of the research for her PhD, Ms Rixon, 25, spent four months in the Antarctic including a month camping miles away from civilisation.
"It was absolutely incredible, I spent a month camping with just a field assistant which was so, so strange."
Ms Rixon's research involved analysing rocks to see how long they had been exposed to sunlight and how the ice sheets may have changed over the years.
"We'd wake up and the first thing you had to do was to get some snow and melt it.
"Once we'd melted enough snow for lunch and tea breaks we'd head out on skidoos or skis to the nearby mountain and go backwards and forwards and take rock samples.
"We'd do that for the whole day."
The data collected on the trip in 2009 revealed that some mountain tops had remained ice-free for millions of years.
Information was presented at the International Symposium for Antarctic Earth Sciences in Edinburgh earlier this month.
There are high expectations for Ms Rixon's data, which it is hoped, will help "improve predictions" about climate change and rising global sea-levels.
But some might say her passion for the subject was in her blood all along.
At 34, Petty Officer Edgar Evans, a relative "somewhere on my mother's side" along with Lt Henry Robertson Bowers, Lawrence Oates, and Dr Edward Adrian Wilson set off on Robert Falcon Scott's trek to the south pole.
But 11 weeks after setting off in 1911, the group discovered Roald Amundsen's five-man party had arrived five weeks before them.
After wounding his hand, suffering from frostbite and sustaining a head injury Evans was the first of the group to die. None of Scott's team survived.
Ms Rixon said: "It is quite strange that we both ended up here. Luckily my trip was more successful.
"I'm not sure if it inspired me. It gave me more of an interest and I was certainly more aware of it.
"When he died his salary stopped and because he was from the regular Army his wife found it quite difficult because they had children, so to bring them up it was quite challenging and quite sad."
For 30 days of her research project, Ms Rixon lived with just one other person, a field assistant, in a tent.
"I listened to my iPod. A lot. But then we had to start rationing ourselves because of the batteries.
"It can be quite challenging when you're stuck in a white-out - really bad weather - and you don't know how long it's going to last for.
"The longest I've spent is four-and-a-half days and you begin to think 'will I ever be able to leave this tent?'"
Rebecca said the majority of "spare time" was spent "checking into base", where 90 residents from around the world live while working on a variety of projects.
"You're getting more and more women and younger people involved. It's starting to lose some of its image of being an old boys club."
Something Edgar Evans and his comrades, who failed in their trip, may not have expected.