Kitten found dumped in bag on Dawlish Warren beach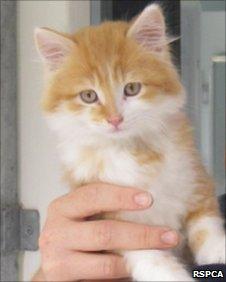 The RSPCA is appealing for information after a kitten was found dumped in a carrier bag on a Devon beach.
The ginger and white male was found by a member of the public on Dawlish Warren beach, in a bag and tied to a bench, at about 2000 BST on 7 July.
The 13-week old kitten, who has been named Pebble, was described as healthy but traumatised.
RSPCA inspector Marija Zwager said it was unacceptable to treat the kitten in such a "callous and cowardly way".
The kitten is being cared for by the RSPCA Little Valley Animal Shelter in Exeter and will eventually be re-homed.
Anyone with information is urged to contact the RSPCA.
Related Internet Links
The BBC is not responsible for the content of external sites.