Vicar flees Devon flock over 'culture of bullying'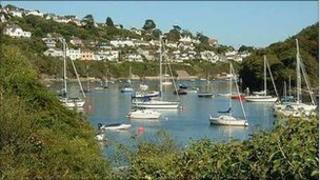 A "culture of bullying" has forced a Devon vicar to leave his parish.
The Reverend Jonathan Cruickshank left his churches in Holbeton, Noss Mayo and Newton Ferrers in June after saying he had not been made welcome.
The Bishop of Exeter has written to the congregations and said a "culture of bullying" will "never be acceptable within the Christian church".
Mr Cruickshank moved to St Peters-in-Thanet in Kent in June. He was unavailable for comment.
In a letter printed in the May parish newsletter Mr Cruickshank said he and his wife were leaving after two years, after being made to feel unwelcome by some parishioners.
'Different agendas'
Some members of the congregation said they had seen "constant criticism" of him by others.
The letter from Bishop Dr Michael Langrish was read out to the congregations in Holy Cross, St Peter's and All Saints churches.
It said: "It's clear there are a number of issues which need to be addressed if the church in this area is to move on and fulfil its purpose of furthering God's mission.
"It is very difficult for a parish priest to be an effective minister when different places and people are working to different agendas."
He added that he was looking for a new priest who had the skills and experience to "address these issues".
An anonymous member of the congregation said hearing the letter was "quite a shock initially because it was a letter really condemning the parishes and the way they had obviously treated the outgoing vicar".
In a statement the Bishop's office said: "The diocese always does its utmost to support clergy and lay officers in parishes."