Excavation starts on 1600 BC Dartmoor home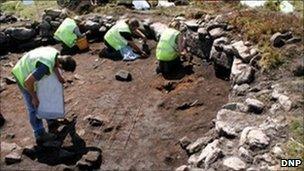 A team of archaeologists are to start excavating a Bronze Age round house on Dartmoor.
The dig in Bellever will explore the entrance and exterior of the home which it is believed farmers lived in.
Previous excavations uncovered a paved stone floor, post holes which would have supported a roof and more than 150 shards of pottery.
Fragments of burnt oak have also been analysed revealing it was occupied for about 400 years, from 1,600BC.
Related Internet Links
The BBC is not responsible for the content of external sites.