French trip inspired Sparkwell's new community library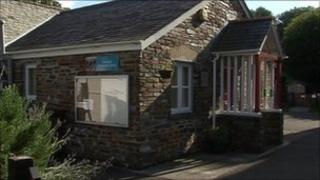 A new community library is opening in a Devon village, inspired by a local resident's visit to a similar scheme in France.
Sparkwell library will be staffed by volunteers and run from the village's old school building.
It is the fourth community library to open in south Devon and will be supported by the county council.
Opening hours at many of the county's council-run libraries are being cut to save £850,000 from the library budget.
David Crowley told BBC News the idea for the community library had been prompted by a visit to see his daughter who was spending a year living in France.
He said: "They had a library within a very small village manned by volunteers and I thought we could do the same."
Mr Crowley said he had put a notice about his idea in the April edition of the parish magazine and "immediately" got seven volunteers to be librarians.
Sparkwell recently lost its council-run mobile library service.
Mr Crowley said: "The library is very important, bus services are few and far between... so we can't get to our nearest library.
"The lack of the mobile library was beginning to bite.
'Little society'
"We lost our pub, we lost our school, the only public facility was the church.
"Sparkwell needed something else, we were losing too much."
Sparkwell residents have donated books and DVDs to the new library, which will initially open three days a week for a trial period of three months.
Stock will also be regularly rotated with the library in Ivybridge to ensure fresh supplies of reading material.
Mr Crowley said: "The importance of this exercise is getting volunteers and the community involved again.
"I'm sure [prime minister] Mr Cameron or someone will say it's all part of the big society but actually it's a little society which may grow."
Mr Crowley said he hoped the use of the old school building for the library would one day lead to the reopening of the village school.
'Excellent service'
Other community libraries have already opened in Devon at The Red Lion Pub in Dittisham, the Café on the Green in Widecombe-in-the-Moor and the community-owned and run village store in Broadhempston.
County councillor Roger Croad, who is responsible for library services, said: "We are committed to working hard to ensure our excellent library service continues to thrive and develop despite the current financial challenges.
"We have been exploring how we can work together to better provide services for our communities at less cost, and in ways that suit them.
"This pilot [library] project has proved very successful in other parts of south Devon.