Ilfracombe wedding couple's vow to 'take the plunge'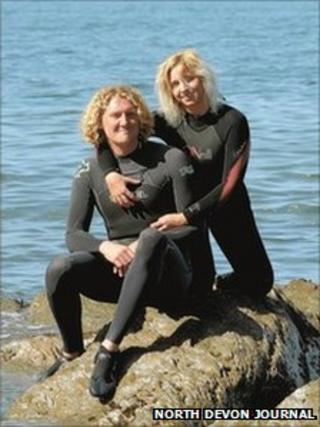 "A wedding with a bit of a difference" is how one bride-to-be has described her upcoming marriage on a rock off the coast of north Devon.
After exchanging vows in wet suits (and a white tutu for the bride), the couple will literally take the plunge - by jumping about 20ft (6m) off the rock into the sea below at Hele Bay, near Ilfracombe.
Swimming out to the rock with Becky Watkinson and fiance Samson Hutson on 23 September will be the rector, witnesses and guests, including Becky's 80-year-old grandfather Brian Machin.
"Grandad's really excited about the wedding and thankfully is very fit - he goes swimming about once a week and still rides his bike," 24-year-old Becky told BBC News.
She admits her grandmother Muriel Machin, on the other hand, is "not quite so excited" and will travel to and from the rock by boat.
"Nana made me laugh so much - she said 'at 75-years-old I consider myself ancient and I certainly won't be squeezing myself into a wet suit'," Becky said.
The rock sits about half a mile (1km) out to sea. For part of the journey, guests will be able to scramble over the rocks just getting their feet wet. However the final 66ft (20m) will have to be swum.
"Samson's dad can't swim at all - so that's going to be a bit of a challenge," Becky said.
He will wear a life jacket and attempt to float out on his back.
Becky admits the biggest challenge for some of the guests - including her mother Sue Ward - will be jumping into the sea with them after the marriage ceremony.
"Some of the family might have a bit of a wobble because we took mum for a practice jump and she took ages to jump," she said.
"But the bay is very sheltered and we'll have really experienced lifeguards in the water and safety lines... everything will be absolutely fine."
Hot pasties
Becky and Samson, who are both originally from the Nottingham area, met in Greece and have spent time travelling around Europe, Australia, the Middle East and South America.
For the past two years, the couple, who are experienced coasteering instructors, have taught surfing, kayaking and climbing in and around Ilfracombe. They are both also trained beach lifeguards.
"We really love living in Devon and can't think of anywhere better for the wedding," Becky said.
The couple insist no-one will be in any danger on the day of the wedding, and the jump will have been well practiced and researched.
The logistics of the wedding have all centred around the tide times on Friday 23 September.
"You can jump off the rock with complete safety two hours either side of high water, so that's at two-thirty (14:30 BST) and we're getting married about one-thirty (13:30 BST)."
The couple's main witnesses will be men, but with a slight nod to tradition, the two "bridesmaids" will be attired in wetsuits with pink tutus.
One of the "bridesmaids" is Australian Andrew "Bruce" Biggs, who has known Becky since she was a teenager.
"When I phoned to tell him about the wedding I said I was gutted he wouldn't be able to make it, but he just laughed and said 'of course I will' and he booked his flight the very next day," Becky said.
Bruce, however, suffers from acrophobia (fear of heights) and is "absolutely terrified" at the thought of jumping from the top of the rock.
Swashbuckling reception
"Given that he's Australian, I also don't think he'll do very well with the cold water in Devon," Becky said.
Hot pasties and tea will be waiting in a marquee for the newly-weds and their guests when they arrive back at the beach.
Later in the day the wedding will be celebrated with a reception "more suited to our lifestyle" - a pirate-themed reception at the local yacht club.
"Obviously Samson and I will both be wearing eye patches," Becky added.