Gorilla's glass hand imprint to help conservation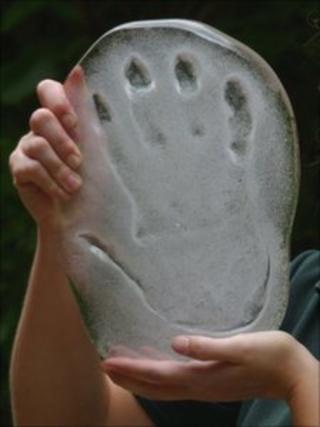 A piece of gorilla art is being auctioned by a Devon zoo to raise money for international ape conservation.
A glass cast has been made of the imprint of a hand belonging to Paignton Zoo's gorilla, the zoo said.
The piece, by Dartington Crystal, is nearly 30cm long (1ft), 20cm (8in) wide and weighs about 2.5kg (5.5lbs).
The zoo said it was supporting the European Association of Zoos and Aquaria Ape Campaign, which aimed to raise one million euros.
The piece was made from an impression of the nine-year-old male lowland gorilla which was taken during a veterinary check.
It is inscribed with Kivu's name and dated 2011.
Paignton Zoo spokesperson Phil Knowling said: "Gorillas are closely related to humans but are becoming increasingly rare.
"Every penny we can raise will help in the battle against extinction."