Devon father angry at disability benefit questions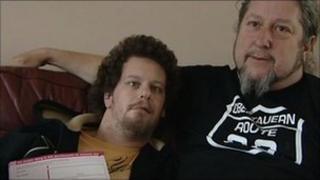 A father has criticised a government questionnaire which asked if his severely disabled son could return to work.
The letter was sent as part of the government's reassessment of those claiming Incapacity Benefit.
Kelvin Halloran, from Torquay, said the Department for Work and Pensions should have been able to access information from the Department for Health.
The DWP said sick people would continue to receive support.
Mr Halloran, 53, and wife Jayne, 47, have spent the past 24 years caring for twin sons Dan and Tom who were born with rare genetic disorder, Williams Syndrome.
Mr Halloran said it meant both sons have a mental age of three.
'It is nonsense'
Dan received a letter from Job Centre Plus, part of the DWP, on 16 September.
The DWP is examining the cases of about 1.6m people claiming Incapacity Benefit across the country.
The letter said Dan's benefits would be phased out for a single Employment and Support Allowance but claimed it would involve having a Work Capability Assessment.
Mr Halloran said the DWP should have been able to access the information about Dan's disability via the NHS.
He is now expecting another questionnaire for Dan's brother Tom, but is threatening to refuse to fill it in.
He said: "We have a care manager who is constantly assessing their needs.
"It is nonsense if they don't know what the boys' needs are."
Mr Halloran, who with his wife cares for his sons full time, said the questionnaire had made the couple feel like benefit cheats.
He said: "We are good people. It is a lack of respect for what we have done."
A DWP spokesperson said: "People who are too sick or disabled will continue to receive our unconditional support.
"It is not right that some people were abandoned to a life on benefits and that is why we are reforming the welfare system."
Marc Bush, head of policy at disability charity Scope said: "We completely understand the frustration of Kelvin and his family.
"But, sadly, their situation isn't a one-off, and there are currently thousands of disabled people going through this process every day.
"Although it's right that the government reforms the benefits system, we have deep concerns about the way they are going about it."