Torquay ex-soldier jailed for raping drunk woman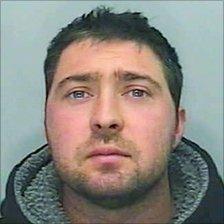 A former soldier who raped a drunk woman - months after being released from jail for a similar crime - has been jailed for seven years.
James Lang, 26 of Laburnum Street, Torquay, attacked the woman in October 2010.
He denied the rape but a jury at Exeter Crown Court in June agreed that his victim was too drunk to consent.
Lang was previously jailed for raping another woman while he was in the Army and released in April 2010.
During the four-day trial at Exeter Crown Court, CCTV footage showed Lang with his unconscious teenage victim, who he met in Torquay club during a night out on 4 October 2010.
Lang asked a passer-by to help get her up on to his shoulder in a "fireman's lift" before carrying her up a dark alley
He then he raped her in a doorway.
During the sentencing hearing, the court heard that the girl had drunk about 13 pints of beer, plus Sambuca shots.
When questioned by police, Lang admitted having sex with the woman, but claimed she consented.
Sean Brunton, prosecuting, said: "She was certainly unconscious, in a stupor."
Rupert Taylor, representing Lang, said that it was not a case of "stranger rape" as they had been seen chatting together in the club prior to the attack.
The court heard that Lang was thrown out of the Army after being convicted of rape while serving in Germany.
The former Royal Logistics Corps lance corporal was jailed for four years in April 2008, reduced to three on appeal, after raping a drunk woman in his room in barracks in Osnabruck.
He was released in April 2010.
Sentencing, Judge Graham Cottle said he considered an indefinite term for public protection, but added he was satisfied that a determinate sentence was adequate.
He also ordered Lang serve a further five years on licence once released.
Judge Cottle said: "If not a carbon copy [of his previous offence], it was very similar.
"You took advantage of a woman insensible through alcohol."
Related Internet Links
The BBC is not responsible for the content of external sites.