Dartmoor Deptford Pink site sees three-fold increase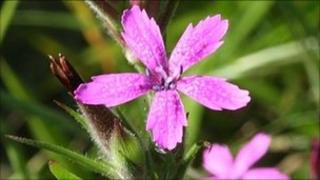 Wild flower experts have seen a three-fold increase in a rare plant at a site on Dartmoor.
The Deptford Pink can be found at three undisclosed sites near Buckfastleigh, Dartmoor National Park said.
At one of the sites, 3,339 plants were recorded in 2010, but this year, 9,632 have been seen.
Ecologists said the hot and dry weather in the spring could have reduced competition from other plants and helped to increase the population.
Naomi Barker, from Dartmoor National Park Authority, said: "The Deptford Pink can tolerate drier and warmer conditions than other plants, thus reducing competition from its neighbours."
'Ensure its survival'
Ms Barker said there were fewer plants recorded at the other two sites.
In 2007, 938 were seen at one site compared to 185 in 2011.
At the other location, 65 were recorded in 2007, with six in 2011.
"The slope on which the increase was found is more exposed than the other two - it is possible that the drought effects were most pronounced here," Ms Barker added.
"With the decline of the plant on other sites, it is now very important to keep a close eye on this particular population and try and manage it to ensure its survival."
The plant is only found at 34 sites in Britain, Dartmoor National Park Authority added.