A tale of three cities: Exeter, Truro and Plymouth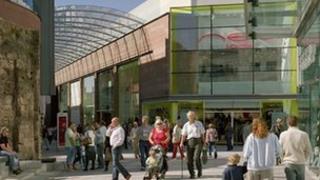 The impact of the recession on the retail sector of the economy across the South West is deepening.
A rise in the cost of living, the VAT hike and job losses in both the private and public sectors, have contributed to consumers reining in their spending.
In this challenging period, BBC South West business correspondent Neil Gallagher has been looking at the contrasting fortunes of Exeter, Plymouth and Truro.
Exeter is acclaimed by some as the capital of upmarket shopping in Devon and Cornwall, with a Waitrose on the outskirts of town and a new John Lewis store due to open in the city centre late next year.
John Lewis Partnership development director Nigel Keen says his company is certainly "sold" on Exeter, which he is sure has "a fantastic future".
'Improbable coincidence'
"Exeter is a place the John Lewis Partnership have been trying to get into for some considerable years," he said.
"It's a great city - it's very vibrant... and seems to be surviving the recession better than anywhere else."
Forty miles away, Plymouth has developed some obvious retail problems, despite the success of Drake Circus, which opened five years ago.
Stephen Lobb, a property consultant from Hartnell Taylor Cook, who worked for years to secure the Drake Circus deal at the top end of town, admits the opposite end of the shopping centre is "looking sorry for itself", with its largest units all standing empty.
"It's been exacerbated by the rather improbable coincidence of Derry's Department Store, T J Hughes and Woolworths all falling vacant at the same time," he said.
"That's bad luck."
Despite its problems, Plymouth's city centre manager Clint Jones, says at twice the size of Exeter, Plymouth is a "different beast".
"We have the most shops, the most money being spent...we're absolutely at the top of our game," he said.
"John Lewis is just one shop. If you look at the broader picture of what Plymouth can offer, it can offer a bit of everything."
Big-name shopping developments may have become thin on the ground in Plymouth, but the city is about to go upmarket for food, with celebrity chefs Hugh Fearnley-Whittingstall and Gary Rhodes opening restaurants in the city soon.
Across the River Tamar in Cornwall, Truro may not expect to poach many shoppers from its rival cities in Devon, but it does enjoy a number of well-known names such as Whittard's, Lakeland and Austin Reed, which are not all found in Plymouth and Exeter.
Truro has also recently attracted property agents Stratton Creber Commercial (SCC), which has been in the other two cities for years.
"I think Truro's a great conurbation; it has a good catchment of 400,000 people," said Tim Smart, of SCC.
"Truro has become the central business district of Cornwall, and it's a beautiful city."
Day to day, the sense of competition between Truro, Plymouth and Exeter may not be huge, but at the moment, it appears to be Exeter where the changes taking place look most positive.