Occupy supporters camp on Exeter Cathedral Green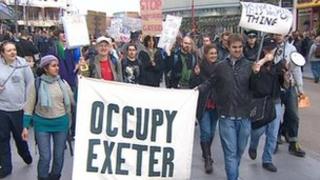 Protesters supporting a global movement against inequality and corporate greed have set up a camp outside Exeter Cathedral.
Campaigners, including members of Occupy Exeter, erected the camp on Cathedral Green.
The building of the camp followed a march with about 200 people through the city centre on Saturday morning.
The camp has been inspired by the protest at St Paul's Cathedral in London.
Church authorities have allowed the protesters to stay in the cathedral grounds.
The Very Reverend Carl Turner, Dean of Exeter, said: "Cathedrals have always been gathering places and the Church believes that it is a human right for people to peacefully protest."