Exeter Cathedral Green campsite opposed by acting dean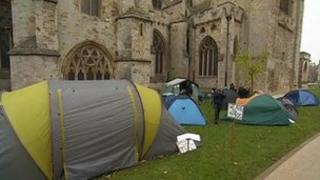 The acting dean of Exeter Cathedral has said he believes the green where protesters have pitched should not be used as a campsite.
The Very Reverend Carl Turner said protesters were raising important issues, but the green was for everyone to use.
Campaigners are supporting a global movement against inequality and corporate greed.
About 18 tents have been at the site since 12 November.
'Positively welcomed'
Dean Turner said: "There's an appropriateness to protest on the green, but is there an appropriateness to camp on it?
"We recognise their right to protest, but the green is not a place for a campsite."
Campaigner Eamonn said: "We've had lots of very positive interactions with the acting dean and other members of the clergy.
"We've been positively welcomed, we haven't specifically been given permission but they've been very sympathetic... they respect our right to protest.
"We're not being destructive, we're not blocking the place," he added.
Last week, Right Reverend Michael Langrish, the Bishop of Exeter, said he sympathised with campaigners but criticised their actions.
Some protesters in Exeter have said they are prepared to stay at the site beyond Christmas and into the new year.
Dean Turner said they had no plans to make them leave the green.
In Plymouth, protesters are camping outside Drake Circus Shopping Centre.