Pet cruelty 'warning sign' of domestic violence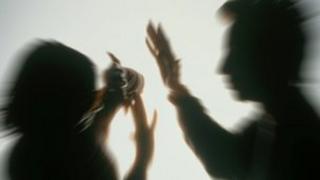 Animal cruelty can be a "warning sign" of domestic abuse, Devon and Cornwall Police have said.
The RSPCA and Against Domestic Violence and Abuse Devon (ADVA) have been working with police to highlight the issue in the South West.
The force said cruelty to household pets was present in 20% of its high-risk assessments.
Det Ch Insp Steve Parker said pets were often hurt or threatened as a way of controlling the abuse victim.
"If people see animal cruelty taking place it is important to report these incidents as it could be a sign of something much worse," he said.
The RSPCA said if abuse victims had to go into a refuge, it could offer help with pets until they could be reunited.
Pet retreat manager Carolyn Southwell said: "The RSPCA understands the difficulty victims of domestic abuse face.
"They are often fearful of what could happen to their pet if they leave them behind, especially as refuges are unable to accommodate pets."
A domestic abuse victim from Devon said her pet dog was kicked, punched and finally killed by her former partner.
"One day I returned home from work, to find my dog strangled in the garden shed.
"This was the moment I found the strength to leave, as I knew that now my dog was dead he might switch the violence to my child."
Other early warning signs include excessively jealous behaviour, psychological and physical abuse during pregnancy and just after birth, cyber-stalking and stalking.
'Niggling suspicion'
It is hoped the campaign, "Domestic abuse: Would you recognise the signs?" will encourage those at risk, as well as friends, family and colleagues, to notice the warning signs and seek help.
Det Ch Insp Parker said: "We are all aware of the physical signs of domestic abuse, but sometimes the less obvious signs can be indicators that all is not well in a relationship.
"These types of abuse aren't always as obvious as physical bruises but can have just as detrimental affect on a person's life."
ADVA manager Rachel Martin said she hoped the campaign would give people the confidence to call for help "even if they just have a niggling suspicion that something isn't right".
"Tragically, there are still too many domestic abuse cases here in the region that end in serious injury and even death," she added.