China clay firm Imerys invests in Teigngrace laboratory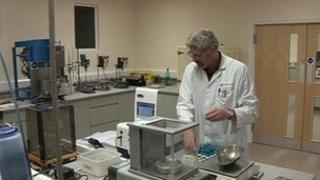 A china clay company has spent £800,000 on a new state-of-the-art research facility in Devon.
Imerys said its six new laboratories at its Teigngrace site will help to provide job security for 40 employees.
Laboratory staff will study the different qualities of each type of clay Imerys extracts.
The ball clay is exported around the world and is used to make ceramic products like tiles and bathroom sanitary fittings.
'Selective mining'
Imerys, which mines 80,000 tonnes from its Newbridge quarry every year, said the clay deposits near Teigngrace are about 40 million years old.
Although the site is one of only three places in the country where such a high quality ball clay is found, it still has to be "selectively" mined for the ceramics industry.
The research facility has an upgraded quality control laboratory and a ceramics technologies laboratory dedicated to ceramic applications and design.
Imerys manager Christopher Cleaves said: "We're talking to the industry and seeing how the market's developing and what new innovations they want.
"Some of the designs they do want are currently impossible, but we can try to design a clay for them."
Teignbridge District Council said the investment by Imerys would not only keep skilled workers employed in Devon, but would also provide a fresh boost to a "historic and much-valued local industry".