Plymouth teenager offered Olympic torch relay place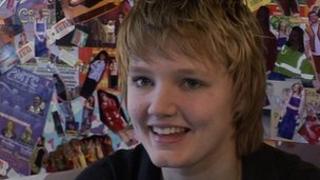 A Plymouth teenager has been nominated to be one of the first of 8,000 bearers of the Olympic torch when it arrives in the UK for the 2012 Games in London.
Sophie Elvin, 17, was offered the conditional place after a public nomination campaign.
She was nominated after being praised for her work with a local theatre club and as a mentor to other young people.
Plymouth will be the first overnight stop for the torch after it arrives in the UK at Lands End in Cornwall.
'Such a privilege'
Sophie was offered her place by the London Organising Committee of the Olympic and Paralympic Games (Locog) after a nomination was put forward by one of her colleagues at the Stage Stars Theatre Company.
She said: "I just don't believe that I should be rewarded for what I do there, because I just enjoy it so much."
She added that she was "so excited" because it was "such a privilege".
"I can't believe that I've been picked for it," she said.
"I'm not sure what to expect, but it will be a part of history which I never thought I'd be doing."
After arriving at Lands End, the torch will go on a 70-day tour of the UK before reaching London's Olympic stadium for the opening ceremony on 27 July.
It will be carried through 30 cities, towns and villages in Devon alone.
An average of 115 people per day will carry it about 1,000ft (330m) each on its 8,000-mile (12,900km) journey around the UK before it is used to light the cauldron at the Games' opening ceremony.