'Big' palaeontology conference at Plymouth University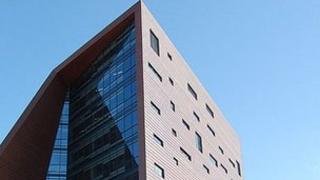 A palaeontology conference believed to be one of the biggest in Europe will be held at Plymouth University for the first time.
More than 250 delegates from 25 countries are expected to attend between Saturday and Tuesday.
The event will be the Palaeontology Association's 55th annual meeting.
Dinosaur extinction, the evolution of mammals and future threats from climate change will be discussed at the conference, the university said.
Dr Richard Twitchett, from the university, said: "This is the biggest event of its kind in Europe, so we are delighted that Plymouth is staging this annual meeting for the first time.
"The research ranges from the origin of sponges and animal life, to 'zombie' worms which feast on whale carcasses, population explosions and extinctions, and the workings of the first vertebrate jaws."
Some of the research will be unveiled to the public for the first time, including insights into the colouration of dinosaur feathers, a spokesperson from the university said.
The conference will include presentations and keynote lectures from members of the palaeontology and palaeobiology community.
The university said a lecture on Sunday evening would be open to the public. Anyone interested in attending is asked to make contact beforehand.