Wallaby undergoes cataract eye operation at Devon vets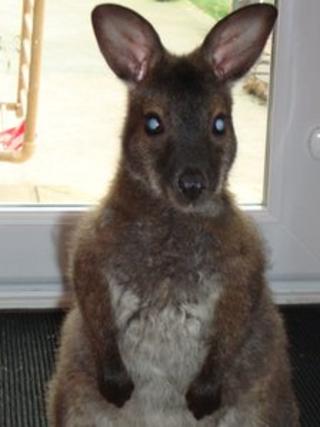 An orphaned wallaby is to undergo an operation to remove two cataracts.
Nine-month-old Bruce, who lives at Cattle Country Adventure Park, in Gloucestershire, will have the eye operation on Thursday.
Specialists at South Devon Referrals will perform the operation. A spokesman said Bruce would "struggle to look after himself" without the operation.
Vets at the practice said it was one of the only wallaby cataract operations to ever be performed in the UK.
Jim Carter, veterinary surgeon at the practice, said: "The surgery is complicated and unfortunately will leave him long-sighted but if successful this will be a significant improvement on his current vision."
Ian Fayers, from the practice, said: "It's the same technique which is used for humans, dogs and cats and the risk of complications is quite low."
Mr Fayers said they would only have an idea about whether the operation had been a success once Bruce woke up from the anaesthetic.
He said recovery would be expected to take several days.
After the operation, it is hoped Bruce will be rehomed to a private collection and live among a family group of wallabies.