Devon pet owner Diana Curtis has 34 dogs and 14 horses seized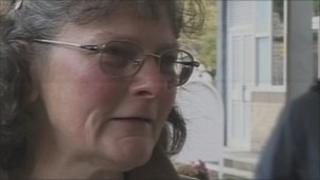 A Devon woman who had about 100 dogs taken from her last year has had a further 34 dogs and 14 horses seized.
Diana Curtis, 53, of Peters Marland, had dogs seized in 2010 and was given an Anti-social Behaviour Order (Asbo).
She was told that she could keep 14 animals, but last week pleaded guilty to breaching the Asbo and is now only allowed to keep six dogs.
The RSPCA said it was considering if any animal welfare offences had been committed and whether to prosecute.
'Sympathy factor'
Torridge District Council said 14 dogs could remain on-site until 10 January, after which time if she still had any more than six dogs, the rest would be removed.
Curtis said: "[It's] totally out of proportion - they weren't that noisy, they might bark some times of the time day but they're not barking constantly.
"I can't take any more trauma. I have brought it on myself because the dogs are my life. I've got 16 acres, why can't they leave me alone?"
Neighbour Mike Lamprey said: "She has been told, and it was made perfectly clear to her what the situation was, she had more than a sufficient number of dogs for one person to look after.
"The sympathy factor therefore can only go so far, and I think we've arrived at a point now where enough is enough."