Devon and Somerset fire alarm proposal angers union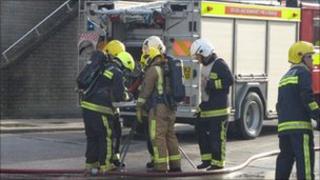 Plans by Devon and Somerset's fire service to stop responding to automatic fire alarms have been condemned by the Fire Brigades' Union (FBU).
The service is consulting on a proposal to stop sending a fire engine to alarms at businesses during daytime hours.
It said 95% of call outs of this nature turned out to be false alarms and a "proportional response" was needed.
But, FBU spokesman Dave Chappell has described the proposal as a "step too far".
"We are all in favour of reducing fire alarm calls where we can, but to go to the point where you make no response whatsoever we think is wrong," he said.
"It's just a step too far, that's the point. The real danger is if you ask people to go and check it introduces delays. They are not trained as to what to do. That's the job of the firefighter."
Devon and Somerset fire service said for business premises, they were proposing not to attend to automatic fire alarms in the daytime unless someone phones them to say there really is a fire.
Assistant Chief Fire Officer, Peter Smith, said: "Last year we attended 2,800 automatic fire alarms, out of those 2,630 were false alarms.
"What we're doing is putting in place a proportional response to automatic fire alarms across Devon and Somerset which will actually improve the safety of people. We believe it is the best way forward."