Plymouth roadworks bring shop closure fear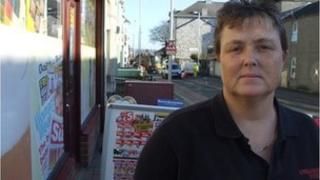 A Plymouth shopkeeper says she may have to close because of roadworks.
Susan Grubb, who runs Embankment Stores, said she had suffered 18 months of falling trade while the layout at nearby Gdynia Way was changed.
Now workers are resurfacing outside her shop in Embankment Road for the next two months, which she says makes it too difficult for deliveries and customers to get to her.
Plymouth City Council said there should be no problem with deliveries.
Mrs Grubb said: "We have lost over 30% of trade over the last 18 months.
"Now deliveries are having to park 50 yards away and are refusing to deliver for health and safety reasons.
"I may have to close the business. I can't sell what I haven't got."
She said a leaflet from the council last week had not made it clear what the effect would be on her business.
"We didn't realise we would be completely blocked off. They have isolated me on a corner where no-one can get to me."
The council said in a statement: "Our East End project manager spoke with Mrs Grubb, the owner of Embankment Stores, in person on Monday.
"He was able to reassure her that delivery vehicles will be able to access Wentworth Place via Grenville Road and pull into the loading bay beside her store as usual for the duration of the works.
"The only restriction is on their exit route as access to Embankment Road from Wentworth Place is currently closed.
"Delivery vehicles will need to simply turn around and exit the way they came."