Disagreement over Dartmoor listed windows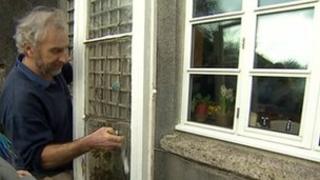 A Dartmoor property owner could be served with an enforcement notice to remove windows and doors that have been in place for a decade.
Clive Venables replaced soft wood frames in his listed farmhouse in Harford with hardwood and double-glazed windows.
Dartmoor National Park Authority (DNPA) said he did not apply for planning permission and they should be removed.
Mr Venables said removing and replacing the windows could cost £16,000.
He said he replaced the windows 10 years ago because the wood was rotting and the glass was loose.
Mr Venables said: "About 12 months ago we had a visit from a historic building officer who noticed that we had double-glazing windows, went back and checked and found those double-glazing windows hadn't had permission for them to be fitted.
"In fact we felt that we didn't need permission because we weren't changing the fabric or the appearance."
But Mr Venables did not not seek listed building consent and as such DNPA said the matter needed to be investigated - even a decade on.
He said: "All the park has done is ostracise somebody who was willing and working for the same sort of standards as they ought to be upholding.
"They've wasted my goodwill and wasted a massive amount of money on this."
DNPA said: "It is the legislation of the land that all planning authorities protect listed buildings.
"We are only simple enacting that legislation that we are given through Parliament."