Trawler salvage operation in Teignmouth begins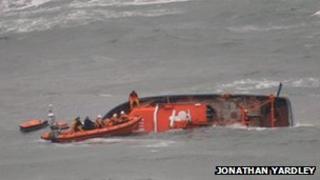 An operation to recover a fishing trawler which hit a sandbank and capsized off Devon has got under way.
Five fishermen were rescued from the Girl Rona after it capsized at the entrance of Teignmouth harbour on Monday.
It was carrying about 2,000 gallons of diesel and nearly 20 tonnes of fish.
Fish have been dumped from the vessel and a tug is taking a line to it before work starts to pump out water and refloat it.
Lifeboat damaged
The local inshore RNLI lifeboat came to the crew's rescue after they managed to scramble on to the side of their vessel.
There were no reports of any injuries.
Teignmouth's harbour master, Cdr David Vaughan, said: "When the tide goes out, we'll get out there with pumps so we can pump out the maximum amount of water we can at low tide.
"When the tide comes in again, we'll be in a good position to pull her off and refloat her. Then we can bring her into the harbour."
The lifeboat sustained some damage during the rescue, the RNLI said
It added that repairs had been started so they could "sort that out as fast as we can".