Torbay Council budget cut fears for vulnerable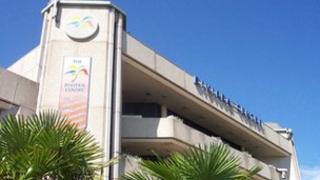 Plans to cut social care budgets instead of leisure services at Torbay Council have been criticised.
The council wants to cut £4m from adult social care as part of the Conservative administration's plans to save £11m.
Liberal Democrat councillor Steve Darling said it was "peculiar" that services for the vulnerable were cut when leisure services were protected.
But Alan Tyerman, cabinet member for finance, said critical social care would not be affected.
Mr Darling said while he accepted the council had difficult decisions to make, it was a question of priorities.
'Valued facilities'
"There seems some peculiarity here. the English Riviera Centre hasn't had to make any reduction in services - in fact an extra £150,000 was signed over to it in the last few days," he said.
Mr Tyerman defended the council's decision to maintain the Riviera International Centre's budget, saying it was important and provided employment and "valued" facilities for residents.
"The Riviera Centre, like many businesses, has experienced financial problems and we are looking to support it," he said.
The council would however, he said, be looking at a reduction is subsidies to the centre over the next few years.
Mr Tyerman said the £4m reduction to adult social care would be made over two years and "without significant changes" to services.
"We are doing our absolute best to make sure the cuts that are being made are those which are least painful to residents," Mr Tyerman added.