Council starts fund for Crediton fire victims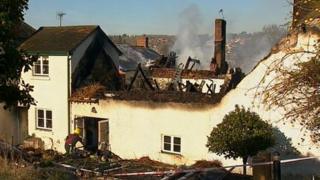 A fund has been set up for families affected by a blaze which severely damaged a row of historic thatched cottages in a Devon town.
Crediton Town Council has launched the fund after six properties were damaged in the fire which started at about lunchtime on Thursday.
The council said people could give money or food to those affected.
At its height, about 100 firefighters from across Devon tackled the blaze in the town in Buller Court.
Mayor Frank Letch said: "No-one has been hurt, but there has been a lot of valuables lost."
People can donate at Crediton's farmer's market on Saturday, Mr Letch added.
'Helpful and supportive'
Ashen Gill, who owns one of the damaged cottages, said: "We've been led to believe by the fire crews that there won't be anything left."
Ms Gill, who has lived in the property for 16 years, said: "We're finding how lovely the human race is, everybody is being so helpful and supportive."
The fire took hold in an historic part of the town known locally as the traditional birthplace of St Boniface.
It affected a row of five thatched cottages before spreading to a sixth property.