Devon rowing team aims to beat Atlantic record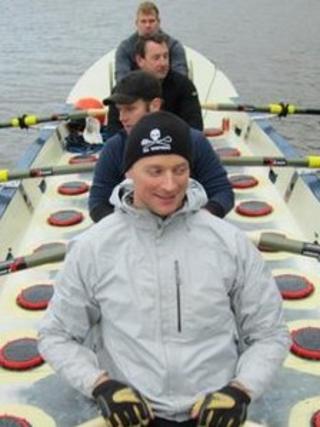 A Devon-based rowing team is aiming to beat the record for crossing the Atlantic in the shortest time.
The team of eight is due to set off from Gran Canaria at 07:00 GMT on Sunday in an attempt to beat the current record of 32 days.
The carbon fibre, titanium and aluminium boat built at Totnes has a crew from New Zealand, France, America and Britain.
The skipper is Simon Chalk, a veteran of six ocean rowing expeditions.
Mr Chalk, who runs Woodvale Challenge which is organising the expedition, said: "We had a crack at the Atlantic record in 2007 and last year but missed it, so we went back to the drawing board for a new boat.
"The aim is to maximise power and minimise weight."
The boat, which weighs just 200kg (440lb) unladen, will be rowed by four men at a time on four-hour shifts at night and one-hour shifts during the day.
There are four berths, one at either end and two "coffin beds" under the deck, to give the boat the best weight distribution.
'Really fast'
Steering the boat to Barbados will be assisted by an automatic pilot linked to the titanium rudder.
"Everything has been weighed to the gram," said Mr Chalk. "She is quite something.
"She looks really fast and we have an incredibly strong crew."
Among the crew is Liam Steevenson from Kingsbridge in Devon who is raising money for the cancer charity Clic Sargent which offered support after his 18-month-old son was diagnosed with testicular cancer.
He said: "An incredibly tough few years followed with surgery, chemotherapy and endless blood tests, and it tested the strength of our family in so many ways.
"My son is a healthy seven-year-old now, and I promised myself I would do something to say thank you for those that helped him still be here today, so this row is for them."