Devon role in €45m type 2 diabetes research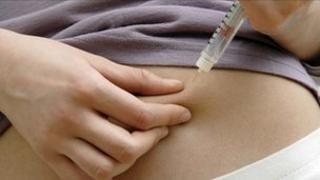 Medical researchers from Devon will be involved in a €45m (£37m) European project to research type 2 diabetes.
The Peninsular College of Medicine and Dentistry, University of Exeter and Royal Devon and Exeter Hospital will research and analyse samples.
It is hoped the project, involving 21 academic institutions across Europe, will improve treatment for diabetics.
The Direct (Diabetes Research for patient stratification) project aims to develop personalised treatment.
The aim of the research is to categorise different types of type 2 diabetes and their causes, as well as how they may respond to different treatments.
New drugs hope
The Royal Devon and Exeter Hospital (RD&E) will be used as the main laboratory.
Clinical scientist, Dr Tim McDonald said: "Our role with the Direct project will be to co-ordinate in the region of 250,000 blood and urine samples from across Europe over the next three years.
"Our chemistry laboratories already carry out about 16,000 tests a day for the healthcare community."
A spokesman said additional staff would be required to carry out the research, although it was not known how many, and the tests would be carried out before or after office hours so as not to interrupt the laboratory's daily responsibilities.
Researchers will also work to develop tests to predict who gets diabetes, how and why it deteriorates and the different responses to treatment.
It is hoped this will lead to the development of new drugs to improve treatment.
The University of Bath, Imperial College London, the University of Oxford, and the University of Newcastle Upon Tyne will also be involved in the project.
Type 2 diabetes occurs when insufficient insulin is produced by the body for it to function properly, or when the body's cells do not react to insulin.