Clawton fishery cleared in topmouth gudgeon alert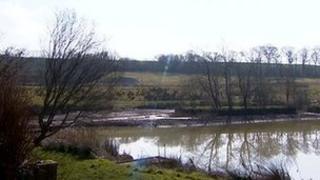 Poison is being used to clear an invasive species from a Devon fishery.
The Environment Agency found topmouth gudgeon at Clawford Lakes Fishery near Clawton.
Native species were removed from 17 lakes before experts poured in an organic piscicide.
Topmouth gudgeon, originally from eastern Asia, has been found in waters across Europe and preys on the eggs of native fish, as well as spreading disease and competing for food.
'High risk species'
The Environment Agency, which acted on reports of an invasive species at the fishery, said if the fish escaped from the site they would have posed a risk to fish in the neighbourhood, including the River Tamar.
Alison Gidlow, team leader for environmental management of the Upper Tamar, said: "It's a high risk invasive species and in order to protect UK fish stocks it is a species we need to take action to eradicate."
She said the piscicide would disperse into the environment after three weeks.
Investigations are continuing into how the fish came to be in the fishery, which has 17 fishing lakes.
Topmouth gudgeon is classified as non native and high risk under the Import of Live Fish Act, 1980.
John Ray from the fishery said: "I don't disagree with what the Environment Agency wants to do.
"But we never put them in. They are not what anglers fish for."