Paul Conroy: Wife says he was 'lucky every day'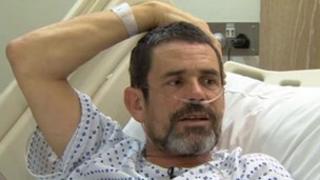 A British photographer who was injured in Syria and was smuggled into Lebanon is extremely fortunate to be alive, his wife says.
Paul Conroy, 47, originally from Liverpool but who now lives in Devon, was injured in an attack in Homs which killed two journalists.
His wife, Kate, is on her way to London to join him while he recovers in hospital after returning to Britain.
She said he had been lucky "every single day" during his time in Syria.
'Kept journalists safe'
Mr Conroy, who lives in Totnes, was working for the Sunday Times and was in a media centre which was shelled by Syrian government forces on 22 February. His leg was injured.
The same attack killed the newspaper's war correspondent, Marie Colvin, and French photojournalist Remi Ochlik.
Mr Conroy was smuggled to Lebanon by Syrian rebels before being brought back to London via the British Embassy in Beirut.
Mrs Conroy said: "Every single day he was there, he had luck on his side, really.
"And, of course, he had the help of the Syrian people and the people of Homs.
"Their priority was to keep the journalists safe and get them out of there."
Talking about when she first spoke to her husband when he could first contact her after his ordeal, Mrs Conroy said: "I just told him I loved him."
Mr Conroy said that the bombardment of Homs will be judged by history as a massacre comparable to those in Rwanda or Srebrenica.