Peninsula College of Medicine and Dentistry split a 'disaster'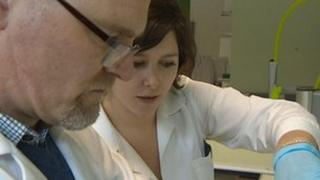 Doctors have called for a rethink of plans to split the Plymouth-based Peninsula College of Medicine and Dentistry (PCMD).
A letter from the Devon Local Medical Committee (DLMC) called the move by PCMD founders University of Exeter and Plymouth University a "disaster".
The plans would mean a medical and dental school at Plymouth and a medical school at Exeter.
PCMD has an annual intake of 200 medical and 64 dentistry students.
The DLMC, which represents Devon GPs, said in a letter to Plymouth University Vice Chancellor Wendy Purcell that the announcement in January was a "momentous shock to all students and staff involved with the medical school across the peninsula".
It feared that the "excellent collaborative work" in research projects at the college would be disrupted.
It added that if a split was the only way forward, it was "essential" that medical student numbers were distributed fairly "to ensure two sustainable medical schools emerge".
The letter said: "The NHS should be working together across the peninsula and the proposed dismantling of the Peninsula Medical School is a disaster to all those trying to provide top quality healthcare, education and research across the region."
'Outgrown the partnership'
A spokesperson representing both universities said: "We remain convinced that this is in the best interests of students and patients in the South West.
"One of the principle reasons for the change is to allow both universities to invest in their medical and medical/dental schools."
During the announcement in January, Professor Purcell had said the PCMD had been a "highly successful partnership" but splitting it in two would "bring new opportunities and possibilities for us to build upon our work".
The universities said the split was "amicable" and there would be an "equitable" split of student numbers, but the success of the PCMD, which opened in 2000, had "outgrown the partnership".
The changes, due to start at the beginning of the academic year in 2013, need to be approved by the General Medical and Dental Councils, the Higher Education Funding Council for England and the NHS.