Afghanistan deaths: Killed marine's widow sends condolences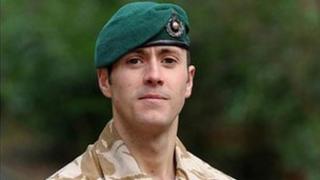 The widow of a Royal Marine killed in Afghanistan has sent her sympathies to relatives of six soldiers killed there.
Kirianne Curley was speaking after the inquest into the death of her husband, Cpl Stephen Curley, 26.
Royal Marine Cpl Curley, originally from West Yorkshire but living in Exeter, Devon, was killed by a bomb in May 2010 as he led a patrol in Helmand.
Mrs Curley gave her condolences after the soldiers died on Tuesday when their Warrior armoured vehicle blew up.
A coroner ruled Cpl Curley, a father-of-one, was unlawfully killed.
A member of 40 Commando Royal Marines, he stepped on a pressure-activated bomb, the inquest at Exeter County Hall heard.
'Tremendous support'
An Afghan boy is currently serving a five-year jail term for planting an improvised explosive device (IED) and acting as a "trigger man", in the area around the time of Cpl Curley's death.
But Exeter and Greater Devon Coroner Dr Elizabeth Earland ruled the "anecdotal" evidence of his involvement was not strong enough to prove he was responsible for the death of the marine, whose son William was five months old when he died.
Speaking outside the inquest, Mrs Curley said her husband had left a "lasting legacy in our beautiful son and will always be remembered by family and friends".
She also spoke of the "tremendous support" she had received, but criticised the length of time it had taken to finish the inquest, which was opened in August 2011.
She said: "I hope that in future military inquests will be expedited so that the time between the death in service and the inquest is considerably shortened.
"I would like to offer my sympathy and condolences to the families of those who died in the recent explosion."
Cpl Jake Hartley, 20, Pte Anthony Frampton, 20, and Pte Christopher Kershaw, 19, died in the blast, this week.
Pte Daniel Wade, 20, Pte Daniel Wilford, 21, and Sgt Nigel Coupe, 33, also died when the bomb planted by the Taliban detonated.