Shelter removal completes Plymouth hospital smoking ban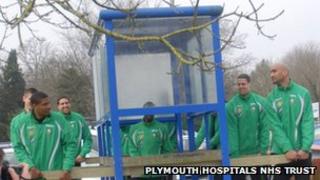 Work to ban smoking at a Plymouth hospital site has been completed, managers have said.
Previously smoking was only allowed in one shelter in a car park at the city's Derriford Hospital.
But now the shelter has been taken down with the help of members of the city's Raiders basketball team.
Managers said staff were patrolling the grounds to enforce the ban and smokers were being offered nicotine patches and support to help them stop.
The medical director of the Plymouth Hospitals NHS Trust, Dr Alex Mayor, said the trust realised that some people might have a problem with the change.
He said: "We are managing and supporting those people, particularly patients.
"We do realise that suddenly stopping smoking can be extremely challenging."